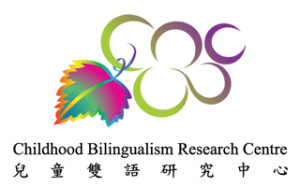 [Video]
The Centre's aims and aspirations are represented in its Logo containing three symbolic elements: a vine leaf, grapes embedding the Centre abbreviation CBRC, and rainbow colours represented in the leaf and grapes. The vine represents growth and development in childhood. It is during early childhood, the most extraordinary period in one's lifetime that the bilingual child develops the knowledge of multiple languages. Just as the vine clings by its tendrils to the trellis, children need the support of a nurturing environment in order to grow toward maturity in their multilingual development; and as a newly established research centre, CBRC needs to be informed by a range of interdisciplinary perspectives in order to grow and bear fruit in its research. The grapes represent the fruition and end point of development when the child attains competence in multiple languages. We also hope that our research will bear fruit in its season. As educators and researchers, we all labour in the vineyard of education and research laboratories: fruitfulness and productivity are our aspirations.
The three colours, cerulean 蔚藍 for Cantonese, magenta 品紅 for Mandarin and emerald 翠綠for English represent three different languages in contact, giving rise to a spectrum of combinations of derived colours. The three languages in the Hong Kong speech community refer to Cantonese, Putonghua and English which are designated as official languages according to the HKSAR's bilingual policy of liang wen san yu 兩文三語 "two written languages and three spoken codes": Liang wen "two written languages" refers to written Chinese, Zhongwen 中文 and English Yingwen 英文, while san yu "three spoken codes" comprises spoken Cantonese Yueyu 粵語, Putonghua 普通話 and spoken English Yingyu 英語. While acknowledging the importance of English as an international language, we are also committed to the promotion of Chinese language and culture, and dedicated to the preservation and development of indigenous language and culture as an invaluable part of our rich bilingual and bicultural heritage in the local community. It is our Centre's central mission to raise the public's awareness of the importance of nurturing childhood bilingualism in these languages within a multilingual setting.
The colours of the rainbow also suggest diversity in theoretical approaches, empirical data and methodology. We believe that each theoretical approach has its own strengths. We aim to combine insights from language acquisition, typology, processing and developmental psycholinguistics in our research. Our centre encompasses expertise in these areas which have the potential to complement and synergize each other in illuminating complex phenomena in childhood bilingualism. We also embrace the diversity of languages and language pairs: childhood bilingualism will be better understood when investigated against a rich background of linguistic diversity, using a range of methodological approaches including corpus-based and experimental techniques. The creation of multimedia corpus and experimental data that are audio- and video-linked will continue to be a prominent feature of our work. We especially welcome opportunities for collaboration with international researchers from interdisciplinary fields around the world who share our interests.
Finally, some of the bilingual and multilingual children our Centre investigates are children of rainbow colours, being of multiple ethnic descent as in the case of my own children. My youngest daughter once had a dream in which she saw a magnificent rainbow outside the window. To illustrate, she drew the rainbow in one of the most beautiful pictures I've ever seen her produce, bringing to mind Wordsworth's line: "My heart leaps up when I behold a rainbow in the sky."
CBRC logo and flash were designed by Freedom Communications Limited